WellSpan's collaborative efforts lead to Way-Paver Award
Friday, June 10, 2011
Partners with Hospira and Cerner to launch infusion management system
WellSpan, Cerner Corporation and Hospira have been honored with the Collaboration Award as part of the 2011 Way-Paver Awards.
This is the first Way-Paver Award to recognize outstanding collaborative efforts and results among a hospital, health care technology company and a global pharmaceutical and medical delivery company.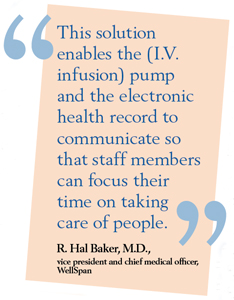 The Way-Paver Awards recognize individuals and organizations that have cleared the path and paved the way for a safer point of care in hospitals worldwide.
In collaboration with Hospira smart IV pumps, Cerner launched the infusion management system at York Hospital's Medical-Surgical ICU. This is the first system in the world to accomplish true bidirectional communication, closing the loop on the infusion medication management process.
Clinicians at York Hospital and Gettysburg Hospital are able to automatically send data from smart IV pumps directly to the electronic health record without needing a nurse or other staff member to transcribe titration data or volumes infused.
Clinicians are able to automatically program infusion pumps with patients' order information and aggregate real-time infusion and medical device data into the electronic health record.
This information is available in an organized dashboard view that gives a summary of all relevant health information and enables caregivers to spend less time manually entering device data into the electronic health record and spend more time at the patient's bedside providing quality care.
"At one time, infusion pumps were totally separate from the electronic health record," said R. Hal Baker, M.D., vice president and chief information officer at WellSpan.
"This solution enables the pump and the electronic health record to communicate so that staff members can focus their time on taking care of people."
Implementation of the infusionmanagement technology at WellSpan in December 2010 has produced remarkable benefits, including:
Twenty-seven percent reduction in nursing time required to start a new infusion
More than 1,300 nursing hours saved per year in titration and documentation of an existing infusion
Documentation of a single code blue event was reduced from an average of 120 minutes to five minutes
Ability to avoid an average 30 potential adverse drug events in a two-month period at an estimated cost savings of more than $260,000 and potential savings of more than $1.5 million per year.