Dr. Jafari is a "game changer" in the treatment of stroke
Monday, February 18, 2013
Interventional neurosurgeon brings revolutionary approach to WellSpan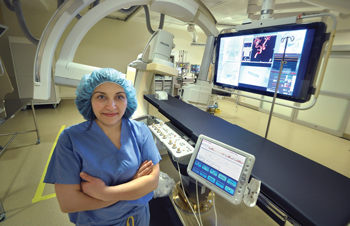 Dr. Neda Jafari, an interventional neurosurgeon, stands in WellSpan York Hospital's hybrid operating room which includes a computer-aided imaging suite. She is standing in front of a 3-D biplane system, which is used for advanced interventional neurosurgery procedures such as clot retrieval from occluded intracranial arteries. Blood vessels can be viewed from two different angles at the same time with the biplane system.
Neda Jafari, D.O., an interventional neurosurgeon with WellSpan Neurosciences is known as a "game changer."
Adding her unique skill sets to the WellSpan lineup of experts allows WellSpan to expand and enhance its Joint Commission Certified Primary Stroke Program by offering minimally invasive treatment for abnormalities of the vessels that provide blood flow to the brain.
Interventional neurosurgery is a new, revolutionary approach to treating stroke. In the past, stroke has typically been treated with medication, tPA or Activase.
Dr. Jafari, however, uses a technique to remove stroke-causing blood clots in brain arteries in a minimally invasive way rather than by surgical incision.
Usually, starting in the leg, a thin tube is threaded to the area of the clot in the brain; a smaller inner tube containing a stent is pushed forward through the clot. The inner tube is retracted; as the inner tube is removed, the stent expands into the soft blood clot.
A balloon is blown up to block blood flow; suction starts, and the stent is pulled back into the tube, taking the clot with it.
"The quicker you break up a blood clot, the better," said Dr. Jafari. "Rapid intervention is critical in stroke care. This interventional technique can be used on stroke patients up to eight to 12 hours, but the best outcomes are for patients who are treated as early as possible.
"WellSpan York Hospital has a very exciting stroke program," she added. "I'm a complement to that program, and I'm usually involved in the later stages in the care of stroke patients."
The stroke team at WellSpan York Hospital includes the stroke neurologist, interventional neurosurgeon and a multidisciplinary group engaged in the emergency care of stroke patients. This emergency care involves the cooperative efforts of the EMS community, emergency department, imaging, laboratory, interventional neurosurgery, medical and nursing staff, stroke coordinator and others.
The neurologist evaluates the patient, determines the diagnosis and makes the immediate referral to the interventional neurosurgeon as appropriate. The interventional neurosurgeon may provide the first line of treatment or a secondary treatment. This varies case by case.
Dr. Jafari, who completed her Neurosurgery Residency at the Cleveland Clinic, can perform a wide range of advanced procedures. As a result, residents of York and Adams counties do not have to travel out of the area to receive state-of-theart care.
This also will enable WellSpan to work toward certification as a Comprehensive Stroke Center, providing the best of stroke care to the community.