Physician learned community service as a paramedic
Tuesday, March 12, 2013
Works behind the scenes to help fledgling non-profits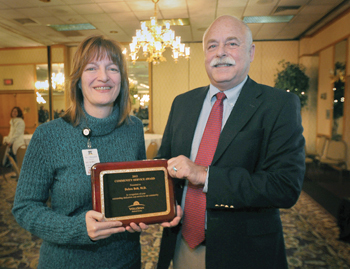 Bruce Bartels, president of WellSpan, right, presents the WellSpan Medical Group Community Service Award to Debra Bell, a physician with Hayshire Family Medicine.
Debra Bell, M.D., likes to say she "took the long route" to becoming a physician. For seven years, she worked as a paramedic in her native Texas before enrolling in medical school.
Bell, of Hayshire Family Medicine, is this year's physician recipient of the WellSpan Medical Group Community Service Award. After coming to York nearly a decade ago for a WellSpan family medicine residency, Bell immediately immersed herself in community service projects.
Looking back, she credits her paramedic days not only for the strength to get through medical school, but for her deep commitment to volunteerism.
"Being involved in people's lives in that setting—going into their homes—helped me realize I needed to make the most of the gifts I was given," she said. "I realized I didn't have the right to just settle."
Transforms volunteers into leaders
Today, Bell practices her own special brand of volunteerism. With a master's degree in organizational leadership, she helps fledgling non-profits find the people and funding they need. She works behind the scenes, scaling mountains of paperwork and transforming volunteers into leaders.
"It's cool to watch somebody realize that they have more to offer than they knew," Bell said.
In York, she has long been associated with Logos Academy, a non-profit, faith-based school for city children. More recently, she helped launch Kavanna House, which offers instruction and guidance in spiritual practices.
"I'm pretty good at seeing the connections, how things can work together," she explained. "So I help people network and find the resources they need to realize their vision."
Bell has also traveled to Ethiopia, Kenya, and Guatemala, teaching residents and developing community leaders in those nations. Whether at home or abroad, Bell believes organizing and developing volunteers is the work she was always meant to do.
"You have to realize where your skills are," she said. "As a physician, I'm expected to be a leader. If I fail to lead and use the skills I have, I'm not doing everything I was meant to do for the community."
Bell received the Community Service Award in January at the State of the Medical Group conference.
"Her service both here in York and internationally has truly impacted so many lives," wrote colleague Mark Catterall, M.D., when nominating her. "We at Hayshire Family Medicine are so proud to work alongside such a wonderful and giving physician and person."